Alternative routes
A top 7 alternative routes for the most famous Calais-Dover crossing.
Instead of Calais-Dover and Dover-Calais, you, of course, also have Dover-Dunkirk (by DFDS), we wanted to guide you through the best alternatives out there when you want to cross the channel to France.
The seven alternatives to travel to France
You have various alternatives to this crossing. You could, for instance, take the "Le Shuttle" and travel towards France by train. There is a difference between where and how you need to book these tips with the car (le Shuttle) or without a car (Eurostar). Keep in mind though that the train can be expensive compared to the ferry crossings.
A map with all possible connections to travel from the UK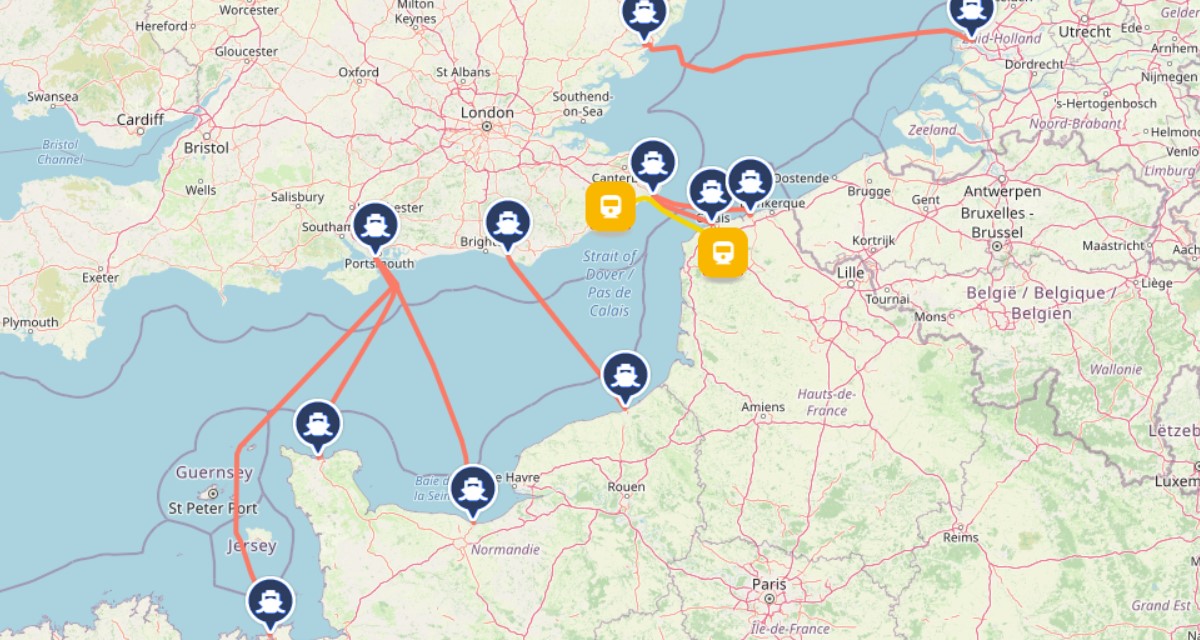 Our Top 7 Alternatives when traveling to France
How to choose between all these ferries to France
Your choice of which route to take depends on the following:
Which city/region you are leaving from.  
Your final destination in France or in the UK.
When you are going: It's best to avoid the Calais and Dover port when it's extremely busy due to lines at the border control. These things might be fixed in the near future, but at the moment, there are still issues. 
The price is all more or less the same, long ferries, however, cost a lot more, so search for short crossings when you want to travel as cheaply as possible.
If you want to go by car or not, also it's important to do your research on parking at the ports, for Calais-Dover, we gathered all parking data.