Traveling from Dover to Calais: The #1 Complete Guide
When you want to cross the channel from Dover to Calais (or the other way around) there are many routes and ferry companies available. We are here to guide you through all these options so you can cross the channel most conveniently!
Want to save time? See the up-to-date prices below:

Ferry from Dover to Calais
If you want to travel to France by Ferry, the most used option is the ferry service from Dover to Calais, a 90 minutes connection with many departures and three ferry companies you can travel with. Besides these three direct options from Calais to Dover, there are about seven alternatives available you should consider as valid options.
Did you know: There is also a time difference on this connection? So when you leave at 2:10, you arrive at 2:40!

All the information you need for a hassle-free crossing from Dover to Calais.
Three Possible Ferry Companies to Travel With
"Low Ratings? Why?" These low ratings are not a good picture of the actual experience when traveling with these ferry companies. That's because all these ratings are a result of – justly – angry consumers waiting or complaining about refunds. We do want to mention though: Don't expect cancellation-related services from these ferry companies if you book non-refundable / non-flexible tickets.
* P&O Ferries has extremely low ratings due to recent problems with the recent sacking of the crew. However, if you book a ticket today, you won't end up with similar problems that were the reason for these ratings.
** Our price estimate is based on an average price from the 'lowest possible single return trip price' we can find, "a return trip with the car, 2 persons and 2 children. The average price per person that comes out of this combined calculation is used as the Calais-Dover.com price estimate. Note: Same dates are used for comparison.
* We used 1 July & 7th July as References for the bookings, Irish Ferries didn't have any sailings available for bike and foot passengers.

The seven alternatives to travel to France
You have various alternatives to this crossing. You could for instance take the "Le Shuttle" and travel towards France by train. There is a difference between where and how you need to book these tips with the car (le Shuttle) or without a car (Eurostar). Keep in mind though that the train can be expensive compared to the ferry crossings.
If you don't want to read everything about
the best alternative to the Calais Dover crossing
, you can also simply take a look at the best option that is currently out there. At the moment this is the connection between
Dover and Dunkirk
. This is a
fast
connection with enough space, good experiences from ferry passengers, and sharp pricing.
A map with all possible connections to travel from the UK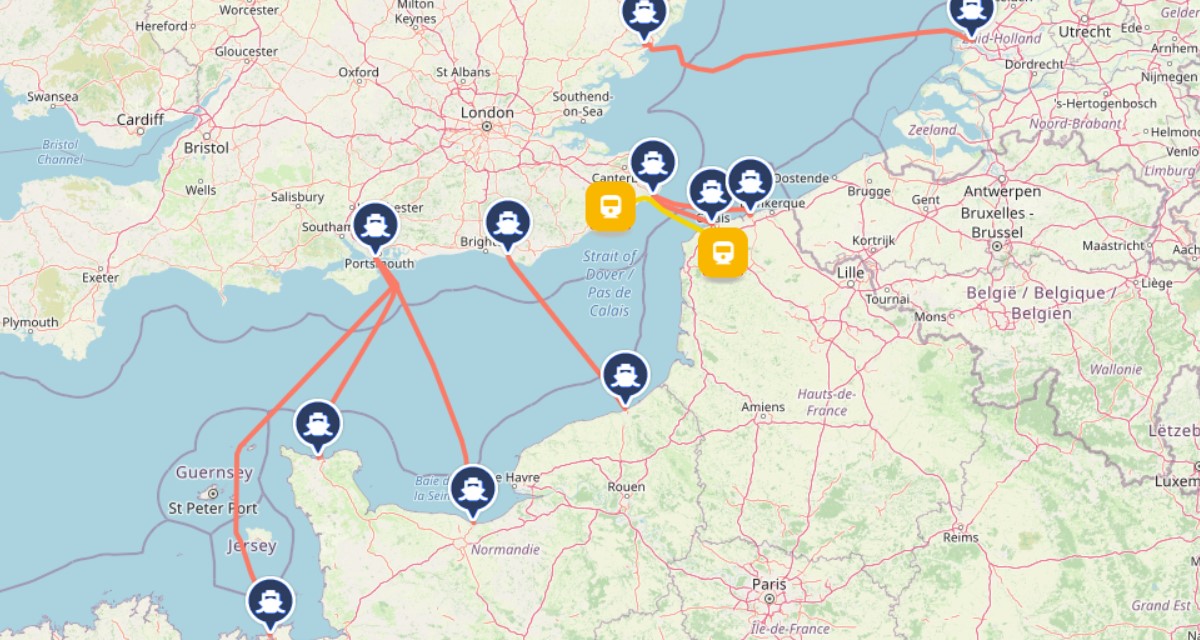 Our Top 7 Alternatives when traveling to France
More about the three Dover to Calais connections
Ferry Operators on Dover – Calais connections: P&O Ferries, DFDS and Irish Ferries
Duration Crossing: (sailing time Calais Dover and sailing time Dover Calais) 90 to 110 minutes.
Number of Departures: 39, This means that you have a good chance that there is room at any time of the day. This is therefore one of the busiest connections in Europe!
Webcams harbor of Dover: Live Webcam
Check out all the current positions of the ferries traveling from Calais to Dover. Also, check out the large ships you might pass during your crossing!
No cruise quality ferries on this crossing
On this connection, you are unfortunately not going to find the most modern and fast (catamaran) ferry ships in the world. Also because it's only a short connection the luxurious ferry ships are not on any routes connecting the UK with France.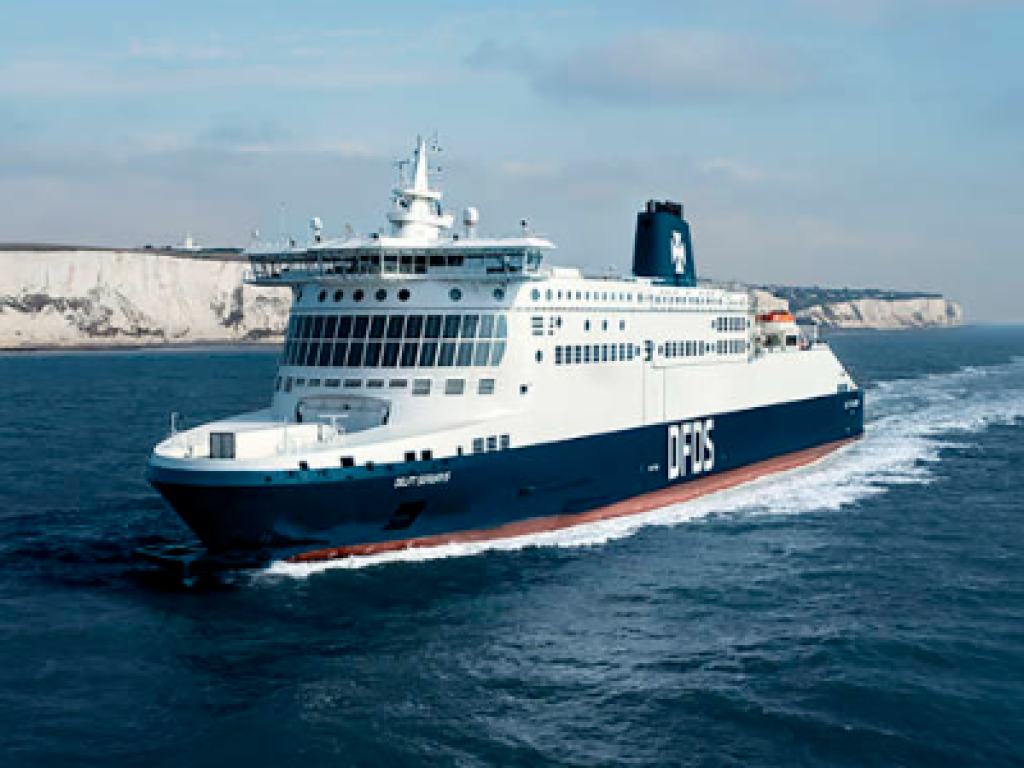 Where to Book from Calais to Dover
Overall DFDS and P&O Ferries seem to be the cheaper option at the moment, though lucky for you it's super easy to compare! All trips are 90 minutes. Booking at the harbor is more expensive than booking the tickets online:
Harbor info about Calais and Dover
Travel to Calais on your way back
You can reach the port of Calais in several ways. Are you by car? Then follow the A16/E40 to France. Near Calais, you will see signs pointing you to the port of Calais. After entering the port, follow the signs for passport control. After passport control, follow the signs to the check-in desk. Here you can check in with your reservation number.
Hang the label you receive during check-in behind the front of your car. Your carrier will then tell you where to drive. A traffic warden will tell you when you can enter the ship and where to park the car. Once on board, someone from the transport company will tell you how to get onto the passenger deck.
It is also possible to travel by train to Calais. Calais-Ville train station is located in the center of Calais. If you travel to Calais by train or if you would like to get to know the center of Calais before departure, you should take into account a walk of about 30 minutes. If this walk seems a bit too long for you, you can also order a taxi. The costs are between €9 and €15.
Dover and its surroundings
At the Dover harbor, you have the opportunity to exchange money, eat something or refuel your car. Before you drive on to your destination, it is definitely worth getting acquainted with Dover. This harbor town is packed with cultural and historical heritage and has an impressive coastal area. There is also plenty to do in the Dover area.
The medieval town of Sandwich is 21 miles away and the historic center of Canterbury is 30 miles away. London is 80 miles from Dover. London can be reached in different ways. It takes about 2 hours by car to reach the center. From Dover follow the A20 to the M20 at Folkstone. Take the exit onto the A2 towards central London.
Also, check out ( or book at) the websites of the Eurotunnel Operators or Ferry Companies
Can you book tickets at the harbor?
Tickets can be purchased at the Travel Centres of the ferry companies. All ferry companies charge a Turn-Up and Go fare at the port which is a premium fare and is more expensive than the internet fare. In order to get the cheapest price it's better to book online and in advance.
Will I receive tickets after booking?
Most ferry companies work with 'online tickets only' meaning you get a reference number after your booking. All Calais Dover ferry companies work like this.
How can I find the lowest-priced fare?
It's super easy to compare the prices, just click on the links & logo's on the websites and you can easily within their booking engines compare all the prices. Don't forget to also check the Dover Dunkirk alternative when you are focused on cheap pricing.